Polly Baldridge Voice Studio
Offering artist-centered. customized voice sessions that celebrate YOUR voice, artistry, and the gifts YOU bring to the world
Maybe it is a place for you?!
Are you a Youth or Adult , working to understand your voice and artistry and why it matters?
It does matter, and it matters greatly. Those gifts of yours and your impulse or desire to share them aren't an accident. You are designed for it - and when you honor that little voice inside that says, "Sing out loud, sing out strong," you bring joy and meaning to the world around you. It matters!!! The world needs to hear and know YOUR VOICE, YOUR ARTISTRY, YOUR HEART!
If you need a place to experiment and figure out small or major details about your voice and artistry before you go public with them, let's talk! I know a lot about the voice and singing, and I'd love to learn more about you and your goals and how I might work with you to meet them.
Interested students may complete the information below. A gratis 15-minute phone consultation will be scheduled to discuss artist goals and review studio philosophy.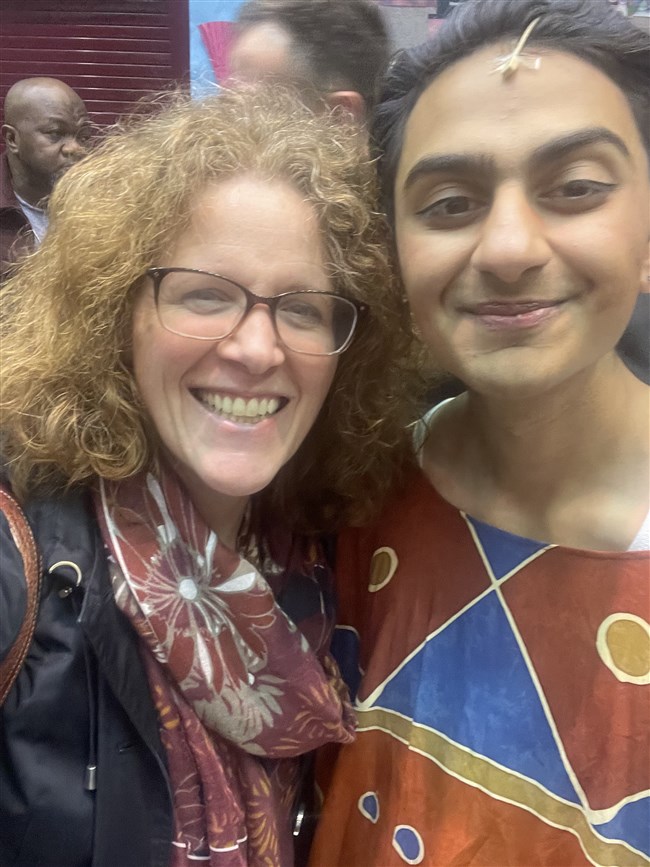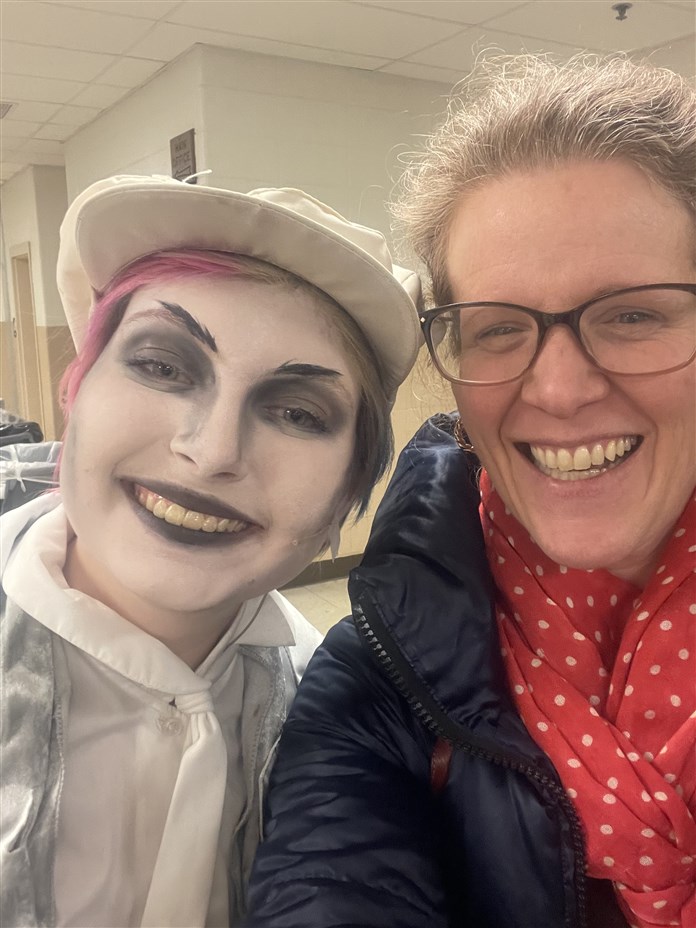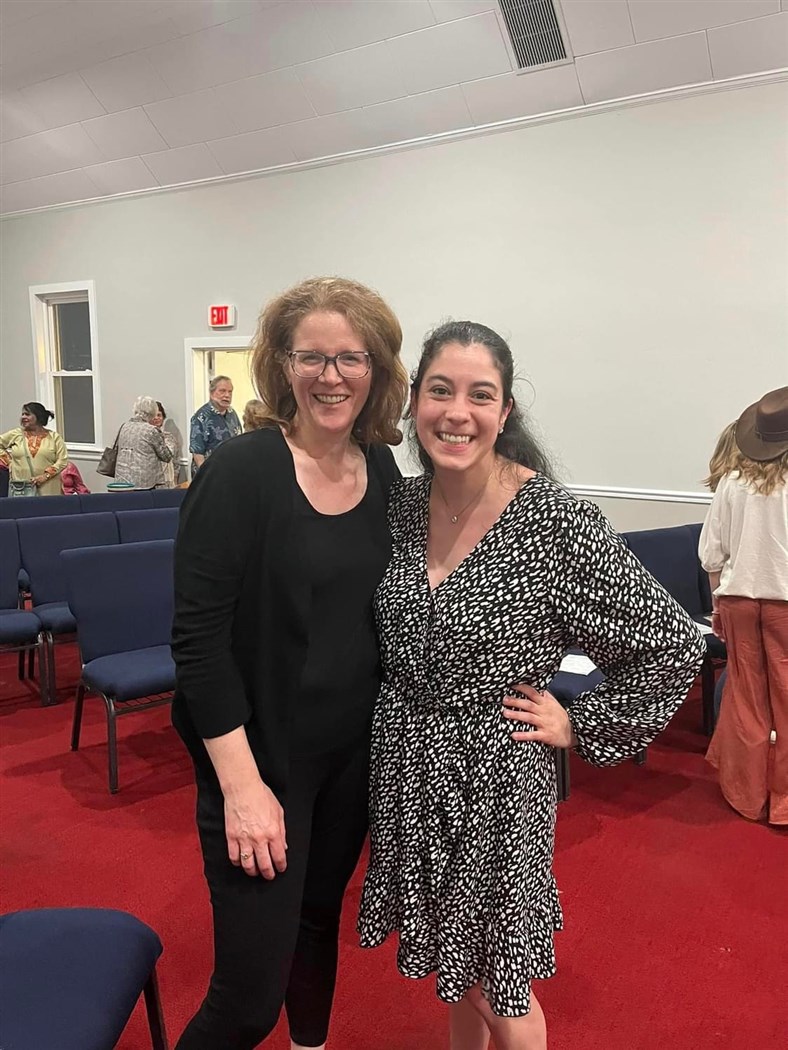 In-Person (Studio in Damascus, MD) and/or Virtual Sessions (Zoom)

Full-Time and Part-Time Studio Memberships, Trial Sessions, Drop-Ins

30, 45, or 60 minute sessions

Daytime appointments year round, Monday - Friday, 9 am - 5 pm, some evening appointments

Artists singing in all styles and genres are welcome

Repertoire selection is guided by artist

Points of artist interest and curiosity guide singing and learning

Artists establish regular vocalizing and practice patterns based on their preferences and goals
STUDIO POLICIES - review for more information!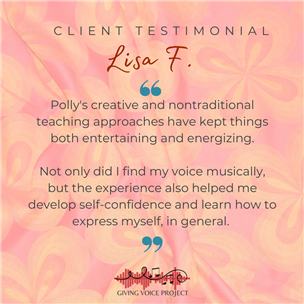 Sessions may include
Vocal warm-ups and cool downs

Specialized technical exercises

Breathing and body awareness

Music history and theory

Voice health and habilitation

Song interpretation

Intonation and timbre of voice

Language/dialect pronunciation/diction

Style analysis and guided listening

Character and scene work

Voice anatomy and physiology

Mixing/blending registers

Head Voice/Chest Voice/Mix/Belt




Voice experimentation

Voice habilitation and health

Mind/body/gesture exercises

Practice routine development

Visual and audio feedback

Microphone technique

Singing and self- accompanying

Music Production

Songwriting

Creativity Coaching

Voice Improvisation

Performance preparation

Audition preparation






Giving Voice Project
Studio Artists are encouraged to enroll and participate in a variety of group and community learning and performance opportunities offered by Polly Baldridge during the year under the banner of Giving Voice Project

Separate registration and fees are required for these special opportunities to cover things like curriculum development, accompanist fees, building rentals, supplies, etc., and the cost for each opportunity will be publicized with the event details - members of Polly Baldridge Voice Studio receive a special rate
TEACHING PHILOSOPHY and DIVERSITY STATEMENT
TRAINING
DMA candidate, Voice Pedagogy, Shenandoah University (2023 expected)
MM, University of Maryland, Voice Performance/Choral Conducting
BA, Voice Performance/English, West Virginia Wesleyan College
Contemporary Commercial Music Vocal Pedagogy Institute, Shenandoah University
Total Singer Workshop, Lisa Popeil's Voiceworks
Bel Canto Can Belto Workshops, Mary Saunders Barton
Richard Crittenden Opera Workshop
Oberlin University, Institute of Vocal Performance Pedagogy
Voice teachers: Alison Crockett, David Meyer, George Gibson, Martha Ellison, Martha Randall, Kathryn Green
Voice coaches: Lester Green, Charlie Riecker, Granberry Wilson
Artists in Action:
So excited for these current and former clients!
Vanshikah Shah https://youtu.be/Sk3kUZN0NZ4
Ashlynne Pillai https://youtu.be/SdW-q0BGSMs
Abigail Weinel https://abigailweinel.weebly.com/
Laura Searles https://laurasearles.weebly.com/
Maanav Goyal https://maanavagoyal.wixsite.com/home
Lauren Greenlees https://www.laurengreenlees.com/