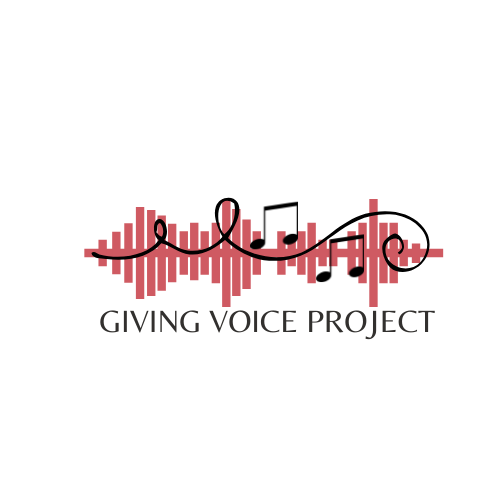 Giving Voice Project (GVP) is a music organization emanating from the heart of Damascus, MD. Our mission is to equip and empower voices through singing, fostering creative self-expression and meaningful human connection that enriches countless lives in our local and extended community.
We are eager to create singing and music experiences that span age and culture. We are excited to remove stumbling blocks to creative self-expression and build awareness about the role and power of artistry. We want to show support for existing artistic endeavors in our community and partner with individuals and organizations to build community. Amazing and inspiring musical collaborations and performances will be a necessary byproduct of our work!
GVP is starting Kinship Singers, a new singing ensemble in January 2024, and plans to design and offer collective learning and performance opportunities, curriculum and educational resources, music and historical research, and community engagement events. Pay what you can rates will ensure that anyone interested in joining has access. Some will financially underwrite our work while others will contribute time, energy, ideas, and more.
There is a place and role for each of us!
KINSHIP SINGERS
This SATB-ensemble gathers people of varied choral and ensemble singing backgrounds and diverse ages to share their musical gifts. Led by Polly Baldridge, Kinship Singers features members and honored guests as conductors, soloists, and instrumentalists. Programming will include many genres of secular and sacred music spanning history, culture, and singing style. Membership is open to any singer who is ready to invest their time and energy, joyfully embrace the creative process, and join fellow artists in establishing a space of acceptance, support, and astounding excellence.
Rehearsal Schedule (beginning January 8, 2024)
Mondays at the Youth Center, 9600 Main Street, Damascus, MD
6:30 pm Optional Group Voice Training Session
Personal Investment: $200, pay what you can option
7:15 pm Gathering/Social Time
Warm beverages may be served
7:30 - 9 pm Kinship Singers Rehearsal
Personal Investment: time, energy, contributions toward music and other expenses are encouraged
Tentative performances the first weekend of April 2024


MUSIC IN MOTION
Three 8-week sessions led by Polly Baldridge (Thursdays, 11 am, Damascus Senior Center)

September 7 - October 26, 2023: Songs of the Beatles
January 4 - February 22, 2024: Folk Songs from the American Tradition
April 4 - May 23, 2024: Songs of Childhood
This video shows the Music in Motion class I designed and lead at the local senior center. We sing, dance, remember, play percussion instruments, learn about our voices, stretch and strengthen our bodies, talk about music history and culture, and interact with each other. Also, we laugh a lot!!
Based in Damascus, Maryland
pollybaldridgevoicestudio@gmail.com
240-750-8287